Tel.. +39.0574.718751 Fax: +39.0574.719152
How to reach us
BY CAR
From A11 (Firenze/Pisa) exit Prato Ovest. Following directions Pistoia – Agliana then for Montale railway station. Distance from Prato Ovest exit to Gheri Nursery offices is around 5.5 km.
BY TRAIN
The railway station is very close to Gheri Nursery, around 700 mt . Take line Firenze/Lucca and stop at Montale-Agliana.
BY PLANE
The nearest airport is Florence Airport 'Amerigo Vespucci' 20 km from Gheri Nursery. There is also Pisa airport 'Galileo Galilei' which is 80 km from us, which is much larger.
GPS
Our GPS coordinates are 43,90984, - 11,01254.
Where we are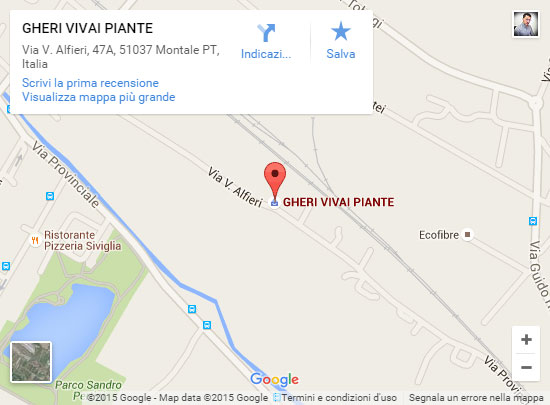 Realizzazione siti web by TimeforWeb
Gheri Vivai Piante - Via Vittorio Alfieri, 47/A - Loc. Stazione - 51037 Montale (Pistoia)
Legals - Privacy - Cookies (Cambia consensi)
"Obblighi informativi per le erogazioni pubbliche: gli aiuti di Stato e gli aiuti de minimis ricevuti dalla nostra impresa sono contenuti nel Registro nazionale degli aiuti di Stato di cui all'art. 52 della L. 234/2012 a cui si rinvia e consultabili al seguente link.
x
Per migliorare l'esperienza di navigazione questo sito utilizza cookies, anche di terze parti, clicca su "consento" per abilitarne l'uso.
Per informazioni dettagliate sui cookie consulta la nostra
informativa completa
.
Nega
Consenti